---
Wayne Schmidt, CFA®
Chief Investment Officer of Gradient Investments, LLC
In October 2008, Wayne Schmidt joined Gradient Investments, LLC to serve as Chief Investment Officer. Boasting over 26 years in the financial industry, Wayne brings invaluable institutional experience and in-depth knowledge of the private client market to Gradient Investments, and offers a global investment management perspective.
Wayne is an essential and direct resource for affiliated investment advisors and their clients. He provides vast wisdom, knowledge and tools to help investment advisors both grow their practices and their clients' assets.
In a nationwide search that included acquisition considerations, AXA Investment Managers, a subsidiary of the European insurance giant AXA Group, handpicked Wayne to build their U.S. investment grade fixed income capabilities and to lead a seasoned portfolio team located in Saint Paul.
During his tenure at AXA Investment Managers, Wayne served as senior portfolio manager for the U.S. investment grade fixed income team. As the lead portfolio manager, he managed $9.5 billion of fixed income assets with a variety of mandates ranging from aggregate, corporate and government bond portfolios.
Before joining AXA Investment Managers, Wayne dedicated over 20 years to Minnesota Life and its' $14 billion investment arm, Advantus Capital Management. As their portfolio manager, he managed a variety of high-grade funds as part of Advantus's $1.8 billion Total Return Product for institutional and retail clients. He also served as the lead portfolio manager of the Advantus Bond Fund and the co-portfolio manager of the Advantus Spectrum Fund.
Wayne earned his Master of Business Administration in Finance from the University of Minnesota and a Bachelor of Science from Cornell University. He is a Chartered Financial Analyst® and a member of The Chartered Financial Analyst Institute and the Twin Cities Society of Security Analysts.
Over the years, Wayne has been quoted on the global economy in numerous nationally and internationally recognized investment publications such as: Bloomberg, Pension & Investments, Reuters, The Los Angeles Times, Financial Week (2008 Neal Award Winner), Asia Times, InvestorVillage, Safehaven, SFO, Credit Investment News and RGE Monitor (Nouriel Roubini's Global EconoMonitorinvestment). He has also provided market insights on Bloomberg radio and television.
Wayne's love of Minnesota is Gradient Investments' great fortune, as he declined to relocate with AXA Investment Managers following their strategic decision to consolidate function into a high-yield operation in Greenwich, Connecticut.
---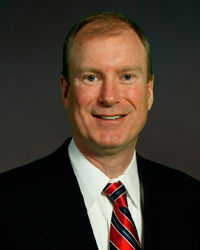 Michael Binger, CFA®
Senior Portfolio Manager of Gradient Investments, LLC
Michael Binger, CFA®, serves as the senior portfolio manager for Gradient Investments, LLC. Michael brings over 24 years of institutional equity investment experience to Gradient Investments and its affiliated advisors and clients. He has extensive experience working directly with financial advisors designing and actively managing portfolios. Michael has successfully invested in numerous market and economic cycles giving him a level and depth of experience that is rare in this industry.
Michael started his investment career in Minneapolis with Lutheran Brotherhood in 1987 and gained experience managing assets in a variety of asset classes including convertible bonds, small cap equities and large cap equities. When Lutheran Brotherhood and Aid Association for Lutherans merged in 2001 to become Thrivent Financial, Michael was selected to work as the senior portfolio manager on the Large Cap Growth Team and Large Cap Alpha Team managing over $3 billion in assets. As the senior portfolio manager, he developed and oversaw the tactical investment strategies utilized within mutual funds, variable annuities, pension funds and insurance company products. These investment processes included proprietary portfolio construction strategies, security selection parameters and volatility controlled umbrellas.
Michael graduated from the University of Minnesota earning a Bachelor of Science in Business Administration-Finance. He graduated with honors and was the University of Minnesota's "Wall Street Journal Award Winner." Michael is a CFA® and a member of The Chartered Financial Analyst Institute and the Twin Cities Society of Security Analysts.
Michael's media highlights include providing market insight on CNBC, Bloomberg TV and Bloomberg Radio. He has also been quoted in The Wall Street Journal, Barron's, Smart Money, Reuters, Business Week and numerous other local, national and global investment publications.
---
Mariann Montagne, CFA®
Senior Investment Analyst of Gradient Investments, LLC
Mariann Montagne, CFA® serves as a Senior Investment Analyst for Gradient Investments, LLC. She has 20 plus years of experience working with both institutional and high net worth clients, and has amassed a strong breadth of investment experience during her tenure. This includes company and industry sector analysis, risk monitoring and portfolio management in both the equity and fixed income markets. She is highly attuned to economic and market conditions, and has extensive experience selecting individual stocks, ETFs and mutual funds.
Prior to joining Gradient Investments, she was the Senior Investment Analyst and co-Portfolio Manager for a Minneapolis-based Registered Investment Advisor with over $500 million in assets under management. Montagne was involved in security selection, portfolio management, client presentations and setting strategic direction for the investment department. Her coverage included individual securities, ETF's and mutual funds in the equity, fixed income and alternative asset classes. Prior to that, she was a Senior Investment Analyst at Thrivent Asset Management examining industry sectors and selecting individual equities. Montagne also spent several years at Munder Capital Management as the assistant director of research along with covering growth and value equities.
Montagne served for seven years on the Global Board of the Consumer Analyst Group of New York (CAGNY), including posts as president and conference chair.
She is a Chartered Financial Analyst and a member of both the CFA Society of Minnesota and the CFA Institute. Montagne is an alumnus of the University of Detroit where she graduated cum laude with a Finance major and an English minor.
Montagne's media highlights include quotes in Barron's, The Wall Street Journal, Fortune, NPR, Washington Post, and the Chicago Tribune. She has also appeared on Bloomberg TV and Fox Business News.
---
Nick Stovall, CPA /PFSSM, CGMA, MBA 
Owner, president and chief tax strategist of Stovall and Associates, Ltd.
Nick Stovall is at the forefront in accounting; strategic financial planning; business, IRA and technical taxation; tax law and policy; and investing. With extensive knowledge of the financial services industry and a solid understanding of the complex demands of diverse business settings, his experience provides invaluable perspective into the intricate relationship between tax and business issues.
During his tenure in the private industry sector, Stovall served as the chief financial officer for Glenn Corporation, E Energy Adams and Gradient Financial Group, LLC. He has also consulted in the public sector serving individuals and businesses in the areas of financial and tax planning. Stovall was an instructor with National American University, teaching upper division accounting courses and remains a mentor for aspiring accountants in the Twin Cities area.
Stovall founded what is now Stovall and Associates, Ltd., an independent certified public accounting firm located in Minnesota. As owner, president, and chief tax strategist for the company, Stovall provides an invaluable perspective on the intricate relationships between tax and business issues to clients across the United States and Europe.
He earned the Masters of Business Administration in Accounting and a Bachelor of Science in Finance from the University of St. Thomas where he graduated with distinction. In addition, he attended Carlson School of Management at the University of Minnesota for the Masters of Business Taxation. Nick also holds his series 27, 7 and 66, as well as his life and health license. In addition, Stovall recently just published his first book: "Retirement Income an Owner's Manual."
Stovall remains active in the accounting industry and is a member of the American Institute of Certified Public Accountants (AICPA), Minnesota Society of Certified Public Accountants (MnCPA) and the Institute of Management Accountants (IMA). He is a member of Ed Slott's Elite IRA Advisor Group.
---
Jeff Hamilton
Senior Vice President of Marketing of Gradient Life Brokerage
Jeff lives in Topeka, KS with his wife Jill and two boys Luke and Cade. He brings over a decade of life insurance experience working with agents advisors across the country designing cases and implementing insurance strategies. Jeff graduated from Washburn University in Topeka, KS with a degree in Business Administration. In his free time Jeff enjoys hunting, fishing, golf and spending time with his family.
---
Jacob Hamilton
Vice President of Life Insurance Marketing of Gradient Insurance Brokerage
Jacob graduated from Kansas State University earning a Bachelor of Science in Business Administration and majoring in Finance. Directly after college he accepted a position at CoreFirst Bank and Trust as a personal banker where he began his career helping businesses and individuals realize their financial goals.
In 2010 he was recruited to Gradient Insurance Brokerage and Jacob began working with a growing life insurance team as a marketing representative. He has developed very meaningful business relationships with core life insurance carriers and continues to grow in his knowledge of products and concepts. Jacob has also worked with a number of elite life insurance producers and has played an integral role in helping them build successful life insurance practices. He currently holds a life and health insurance license in the state of Kansas.
Jacob is married to his lovely wife Keelei and both enjoy an active lifestyle. He loves to golf, play tennis, wakeboard and (although a native of Topeka, KS) enjoys snowboarding in the Rocky Mountains.
---
Ben Seitz
Vice President of Marketing of Gradient Annuity Brokerage
---
Michael Jechorek
Vice President of Gradient Advisors, LLC 
---
Karl D. Jensen, CFP®
Case Manager of Case Central, LLC
Karl Jensen has spent the past 15 years working in the financial services industry in retirement services, developing financial plans for advisors, practice management and operations, and as an advisor working with clients directly.  Having achieved his CFP designation in the spring of 2010, he enjoys helping advisors take on a holistic approach in working with their clients and developing their business.  He received his Bachelor of Science degree in Business Management from Crown College and holds his FINRA Series 7, 66, and 24 licenses as while as his life/health licenses in the state of MN.  Karl enjoys watching and coaching hockey in the winter, playing golf in the summer, and spending time with his wife and two children.
---
Matt Bryant
Senior Investment Consultant, Gradient Investments, LLC
Matt Bryant joined Gradient Investments in early 2011. As an Investment Consultant he partners with independent investment advisors to assist them and their clients with investment analysis and portfolio selection. Matt supports a select group of advisors throughout the country who are focused on serving clients through Gradient's proprietary, fee-based investment solutions. Matt focuses his efforts on keeping his advisors and clients informed on the pertinent information that affects the investment markets.
Prior to Gradient Investments, he worked in project management and supervision with the US Department of Commerce.
Matt holds his Series 65 and is a graduate of the University of Kansas with BAs in Economics, Political Science, and International Studies.